07/26/2014 - 07/27/2014
Opera Reconstructed: "The Heist" (2014)
You Never Knew Opera Could Be Like This!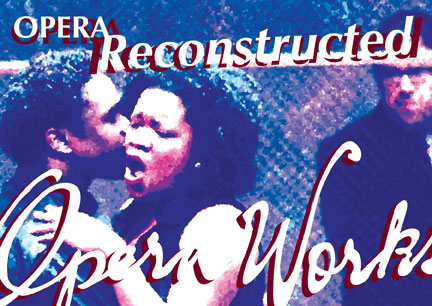 The Mezzo Family is planning one last heist. The Family gathers to celebrate the engagement of their adopted son but darker matters soon interrupt the proceedings. Will the heist happen? Is Patriarch Papa Gianni Mezzo really sick? Either way it will be a night to remember!

Each year, OperaWorks creates a new non-boring production incorporating opera, theater, movement and improvisation, and featuring a cast of 32 sensational singers from around the world.
Two performances only.

VIEW PHOTO GALLERY for 2013 Non-Boring Original Opera, "Exposure".
DATES:
July 26th @ 7:30PM
July 27th @ 2:00PM
LOCATION:
Cypress Recital Hall, California State University Northridge


Brown Paper Tickets Ticket Widget Loading...

Click Here to visit the Brown Paper Tickets event page.
PARKING & DIRECTIONS:
CYPRESS RECITAL HALL is located on Nordhoff St., between Lindley and Etiwanda Avenues. (See map below.)

PARK IN LOT B1 -- There are two self serving parking machines at both ends of the lot. Parking permits are $6.00 and are required for all campus parking.
Click to download a more complete map.